We are pleased to announce that The Annual Auction of Antique Books, 2023 (古典籍展観大入札会), organized by Tokyo Kotenkai, will be held once again this year at the Tokyo Kosho Kaikan!
The Annual Auction of Antique Books follows a silent/blind bid format, where the highest bid at the conclusion of the auction determines the successful bidder.
Prior to the auction, we invite everyone to attend a pre-auction viewing on Friday, November 17th, and Saturday, November 18th. This special viewing allows you to marvel at the extraordinary collection of valuable cultural materials and exquisite works of art that will be exhibited. No reservation is required, and admission is free. Feel free to join us at your convenience.
Please note that bids for this auction can only be placed through member stores of the Japanese Association of Dealers in Old Books. If you are interested in participating and placing a bid, kindly contact us for further assistance.
→ https://www.yamada-shoten.com/english/contact.php
To learn more about The Annual Auction of Antique Books and explore the items available for sale, we invite you to visit the official website.
Additionally, for those who prefer physical copies, hard copy catalogues can be purchased at our member stores. We encourage you to browse through them at your convenience.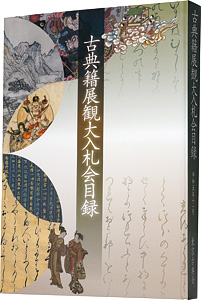 Catalog of The Annual Auction of Antique Books, 2023
 
▽▲▽▲▽▲▽▲▽▲▽▲▽▲▽▲▽▲▽▲▽▲▽▲▽▲
The Annual Auction of Antique Books, 2023 (古典籍展観大入札会)
Preview : 11/17(Fri) 10:00-18:00, 11/18(Sat) 10:00-16:30
Bid day : 11/19(Sun), 11/20(Mon) *Dealers only
Venue:Tokyo Kosho Kaikan (3-22 Kanda Ogawamachi,Chiyoda-ku, Tokyo-to 101-0052)
[Official website of The Annual Auction of Antique Books, 2023]
https://www.koten-kai.jp
*only available in Japanese